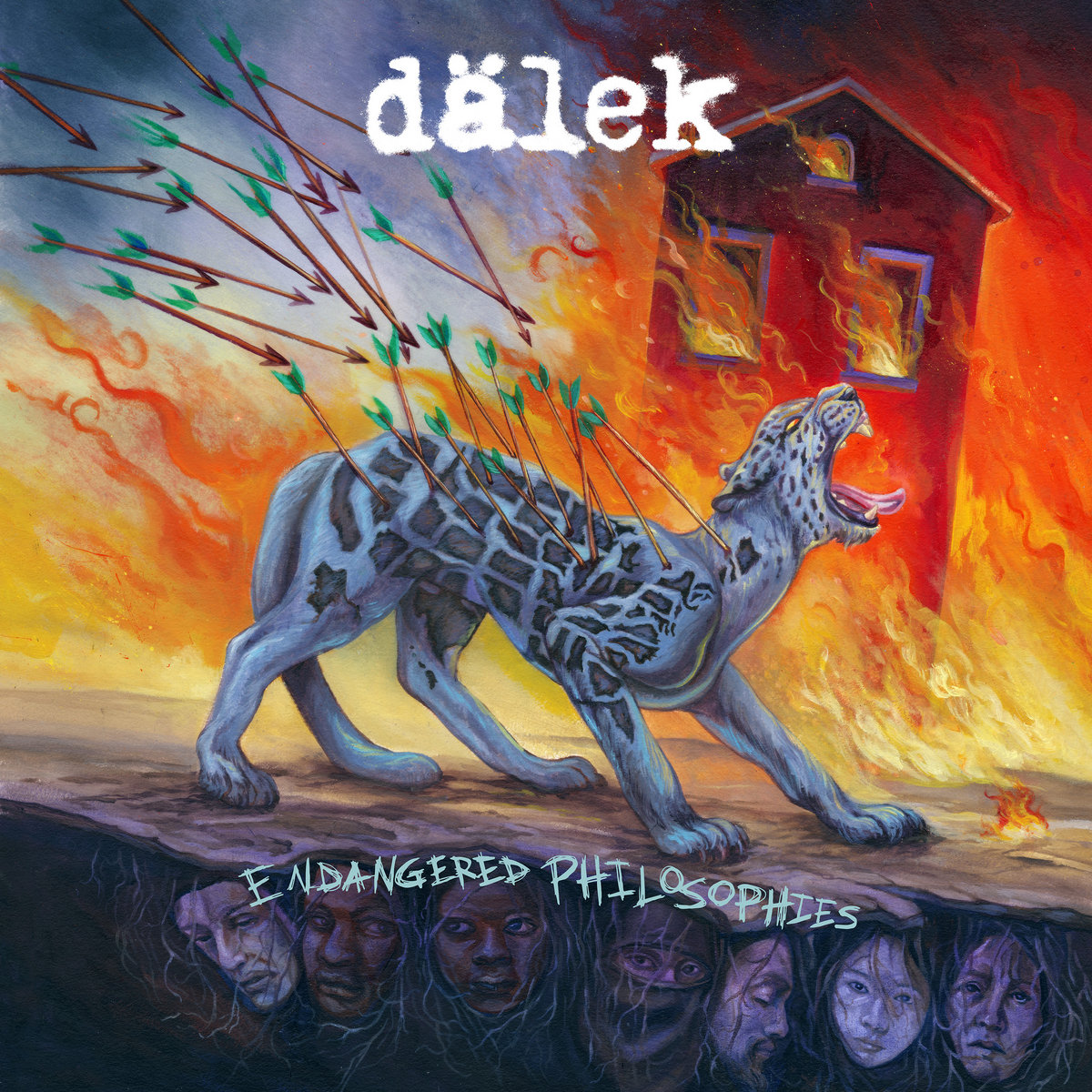 The new release of any album from Newark industrial hip hop crew dälek is always a thing to celebrate, to absorb deeply and to play as loud as possible. It's also something to take your time over, to live with for a while and that is what I have been doing for the past two months. After the blistering Asphalt for Eden (our review linked here), I have learnt to appreciate everything that they release.

It was one of my personal favourite records of 2016, an album which gets a regular airing in my place, so I'm very glad that dälek have released a new album so quickly.

Endangered Philosophies also sees dälek return to Ipecac records, something that has made their fan base rejoice as this was previously a union that worked well for both parties.

Now, whilst It has not been that long since their last record, it can sometimes work well for a band to release more material, especially whilst their creative juices are flowing.

So, let's find out what Endangered Philosophies is all about…...

01 – Echoes of….

It all starts with a swirling piece of noise, then the drums are added slowly to "Echoes of…." and we are back in a familiar land of noise and loud hip-hop that is crafted in a similar style to the sound of Asphalt for Eden.

This is not say that dälek have been resting on their laurels, but there is in all probably, a lot of new material to be mined out of their current sound.

It's a defiant song, a rebellious number that sticks two fingers up to their detractors and it will act as a call to arms for people, business as usual for dälek then.

02 – Weapons

With a softer introduction, "Weapons" might seem like it is trying to lull the audience into a false sense of safety, but dälek are just delivering their message with a calm, intense and steady voice.

It's a song about end times, about losing focus in this era of turbulence and how we need to look behind the words behind the messages that people are being fed.

There is a siege feeling to this song, as if the war is at the door and there are wolves you've got to stop from smashing it down and taking everything.

It's a fantastic piece, one that leaves a lasting impact on the listener long after it is finished.

03 – Few Understand

"Few Understand" continues the work of "Weapons", with the noise in the distant background and only emerging to the foreground during the chorus sections, leaving the words to do their job and deliver the message that dälek need to the pass onto the world.

It's about not being heard, about looking for answers in the wrong places and trying to figure everything out on your own.

It's another great song, one that I adore, and it continues the great work that has already been laid out by dälek.

04 – The Son of Immigrants

Never afraid to get political, "The Son of Immigrants" is a harsh picture of modern America, of the underbelly where people are treat like shit and the mere fact you get to the end of the day is amazing.

It looks to the past and there is a comparison to the present, with a look to the future as well.

It's a harsh number, there is rightful anger and they are not gonna take no for an answer.

This is one of the highlights of the record, the music and the rap are truly awe-inspiring.

05 – Beyond the Madness

"Beyond the Madness" is a track I could listen to for hours on end and never lose interest, it has a drone quality that is easy to lose yourself in, a brilliant performance by dälek on the vocals and the music is enclosing, making you feel like the walls are closing in.

It's dark as midnight in a cave and it's one of the best songs on the album for me, what a tune.

06 – Sacrifice

"Sacrifice" is one of the most sinister songs created by dälek musically on this album, the high-pitched synth noises send shivers up your spine as the subjects of race and conflict are explored.

It's a hard-hitting number, one that it bound to ruffle feathers and that is very much needed at present.

Sometimes being quite isn't an option, sometimes things need to be said and that's what "Sacrifice" is all about.

07 – Nothing Stays Permanent

"Nothing Stays Permanent" continues along the same path that dälek have gone down on Endangered Philosophies, harsh rhymes, huge beat and a sound that would not be out of place in any nightclub in the world (apart from one of those Day-Glo pop bars).

It's designed to create an oppressive vibe and they are unbeatable when they are in this form.

08 – A Collective Cancelled Thought

"A Collective Cancelled Thought" is the longest song on the album, coming in just over seven minutes in length.

For the first five minutes of the song, it's just pure noise, wonderful and aggressive noise.

Then, they drop another powerful rap, one which seems to go by in a blink of an eye, but it is because they are so good at what they do, it hits you with such speed that you are knocked sideways.

Another top draw song from dälek, one that will sound brilliant live.

09 – Battlecries

After such a huge and harsh number, dälek take the noise out of the equation with "Battlecries", a sombre and thought-provoking number that makes might let you rest musically, but the rhymes are still as hard-hitting as ever.

Isolation, suicide and feeling left out of society (something which is sadly still the case for a lot of people) are the subjects of this song, each word is delivered with precision and it sound brilliant.

10 – Straight Razors

With "Straight Razors", dälek once again continue along that droning path that has been their calling card on Endangered Philosophies.

It's hard-hitting, the music sounds like a machine that is hitting you when turned up loud and it all sounds fantastic.

Even as the album draws to a close, they are not losing focus or dropping the ball.

11 – Numb

"Numb" brings the curtain down on Endangered Philosophies in the way you would expect, the noise is turned up to full volume, the feedback from the speakers is deafening and the impact of the rhymes is stunning.

It's a brilliant ending to this album, one which is demanding change and I think only an appearance by the Lord Almighty would stop that demand, even then, I think they would get their way.

Endangered Philosophies is another brilliant album from dälek, they have continued the fine form that they started on Asphalt for Eden and taken it to its ragged, sinister edge.

It is not an easy album on the soul, but it's an important album as dälek are one of the best hip-hop acts currently out there.

This is an album which will not have any fair-weather fans, it's one you will either love or hate, personal I adore it.

If I had one piece of criticism, it would be that Endangered Philosophies is a little too similar to Asphalt for Eden in tone, but even then, that does not bother me.

I would be deliberately looking for issues where none exist in my mind, this is a great album and if anyone says otherwise, they are lying. Too many times I have been hung up when a band stays on the same course, but when it's still baring fruits as gloriously dark as this, what is there to complain about.

This is another special album in 2017, showcasing dälek at a creative peak.

9 out of ten – Almost perfect, almost…..

Top track – A Collective Cancelled Thought

You can purchase Endangered Philosophies on the Ipecac Bandcamp page here.
You can purchase Endangered Philosophies on Amazon here.
You can visit the Deadverse Recordings website here.
You can visit the Dälek page on Ipecac records here.
You can stream Endangered Philosophies on Spotify here.
You can stream Endangered Philosophies on Deezer here.
You can stream Endangered Philosophies on Tidal.