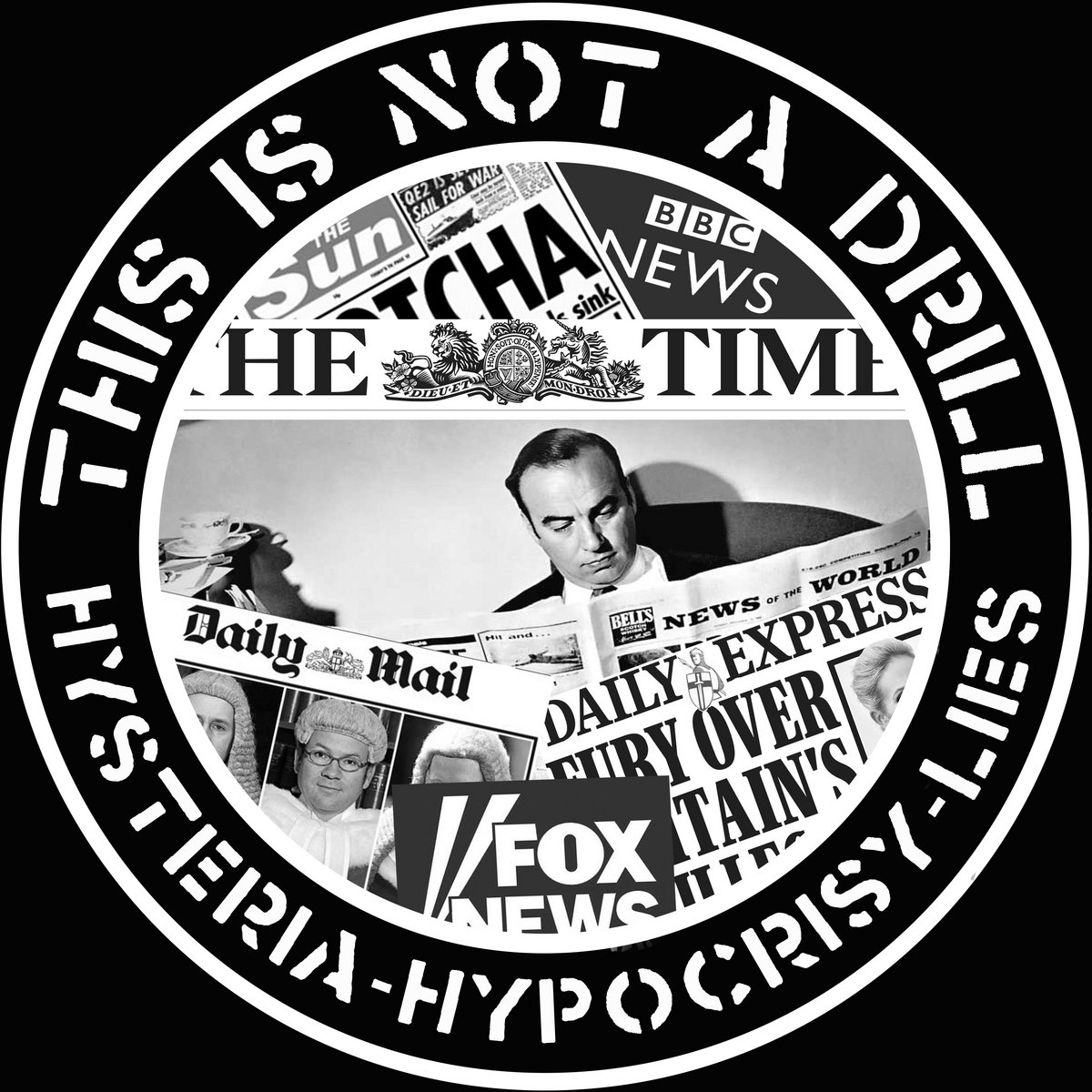 This Is Not A Drill are a South Yorkshire/North Derbyshire Crust/Hardcore/Old School Punk band, they formed in late 2016 and have been making a lot of noise since then.

To be honest (apart from knowing one of the members from their previous act, the mighty Chewed Up), there is not much to go on here in terms of setting the scene for this band.

So, a bit like the music, the introduction is short but sweet…….

01 – Intro



This does exactly what it says on the tin – it is a short introduction to the EP with a spoken word about social media and then a whirlwind of punk noise to whet the appetite.

A short, sharp kick in the bollocks….

02 – Slip the Leash

In under one minute, you are smashed repeatedly with "Slip the Leash".

It is an old school punk song and not a single reference to how bad school within 1,000 feet of this noisy bastard!

It has a bit of ska to the tone, but it is under a wave of distortion and frantic drumming which will keep old school punk happy and might even get some other people jumping like loons as well!

03 – Hysteria/Hypocrisy/Lies

A song about the lies behind the media and democracy and how it is being twisted and how propaganda is being used in Western Governments and how somethings do not make sense.

It is a frantic piece, heavily under the influence of Discharge and as relevant as Discharge was back then and how relevant they still are today.

It is a great number, it holds no punches and it does not hang around either.

04 – We Do Not, and Never Will, Support Rape Culture and Rape Apologists in The Punk Scene and Society as A Whole

I think that the title says it all – another short sharp attack, one with a message I whole heartedly support and it is spot on!

You should get this release just for this song alone!

05 – Crash and Burn

Even though it this is one of the slower songs on this EP, it is still a sledgehammer to the heart and it is a vicious little bastard, hell bent on taking everything down!

Some of the words remind me of Lister from Red Dwarf when he was talking about his old band, but I mean that as a compliment.

It is a hard-hitting number that does not take no for an answer, just what the doctor ordered!

06 – Two Fingers Up

More D-Beat/Hardcore/Old School Punk with a fuck load of attitude and a mass extension of middle fingers to the establishment, "Two Fingers Up" is a smash/grab number that is trying to start a fight in an empty room and succeeding with style.

It is a simple creature in many ways, a good & honest track that leaves you in no doubt of its feelings, basically it does exactly what it says on the tin!

07 – Deviants

Then they bring out the acoustic guitar…. Just kidding, it is more D-beat noise, this time it is about to crave a hole in the wall and start the party next door.

There is a looping feeling to the riff and it gets stuck in your head, one of the best songs on this EP.

08 – The Day Punk Turned Ignorant

Ending this EP is "The Day Punk Turned Ignorant" and they are going out in a blaze of glory (no, not Bon Jovi style).

More frantic Punk, with a sing along section in the chorus and a riff that just keeps on giving.

They have stuck to their formula here and it works perfectly, I love the samples at the end as well, it just gives it a kick into reality after you have been bouncing around like a loon for a couple of minutes.

Hysteria/Hypocrisy/Lies is a no-frills, straight to the point, D-Beat Heavy Punk release that is in and out the door at a furious speed, leaving a trail of chaos and has probably stolen all the booze as it marches onwards to who knows where.

It is straight to the point, taking no prisoners and full of that aggressive sound that makes this music so interesting to me.

The only issue (if I can call it an issue and it is not of the band's making) for me is that it will not hear by everyone who should hear it, I cannot see this sitting too well next to the latest release from whoever is currently topping the charts.

This sort of stuff is fantastic, required and something that shows that something is wrong with the world.

If only they know…... Then again, this is not a release for the great unwashed, it is for those who do not want to be told what to do and will tell you for fuck off if you attempt to do that.

What a great EP, turn it up and play it loud!

4.5 out of five – This is really good, well worth checking out.

Top track - We Do Not, and Never Will, Support Rape Culture and Rape Apologists in The Punk Scene and Society as A Whole

You can purchase Hysteria/Hypocrisy/Lies on Bandcamp here.
You can follow the activities of This Is Not A Drill on Facebook here.

At the time of writing (and probably forever), Hysteria/Hypocrisy/Lies is not on streaming services. However, you should just get it from Bandcamp.