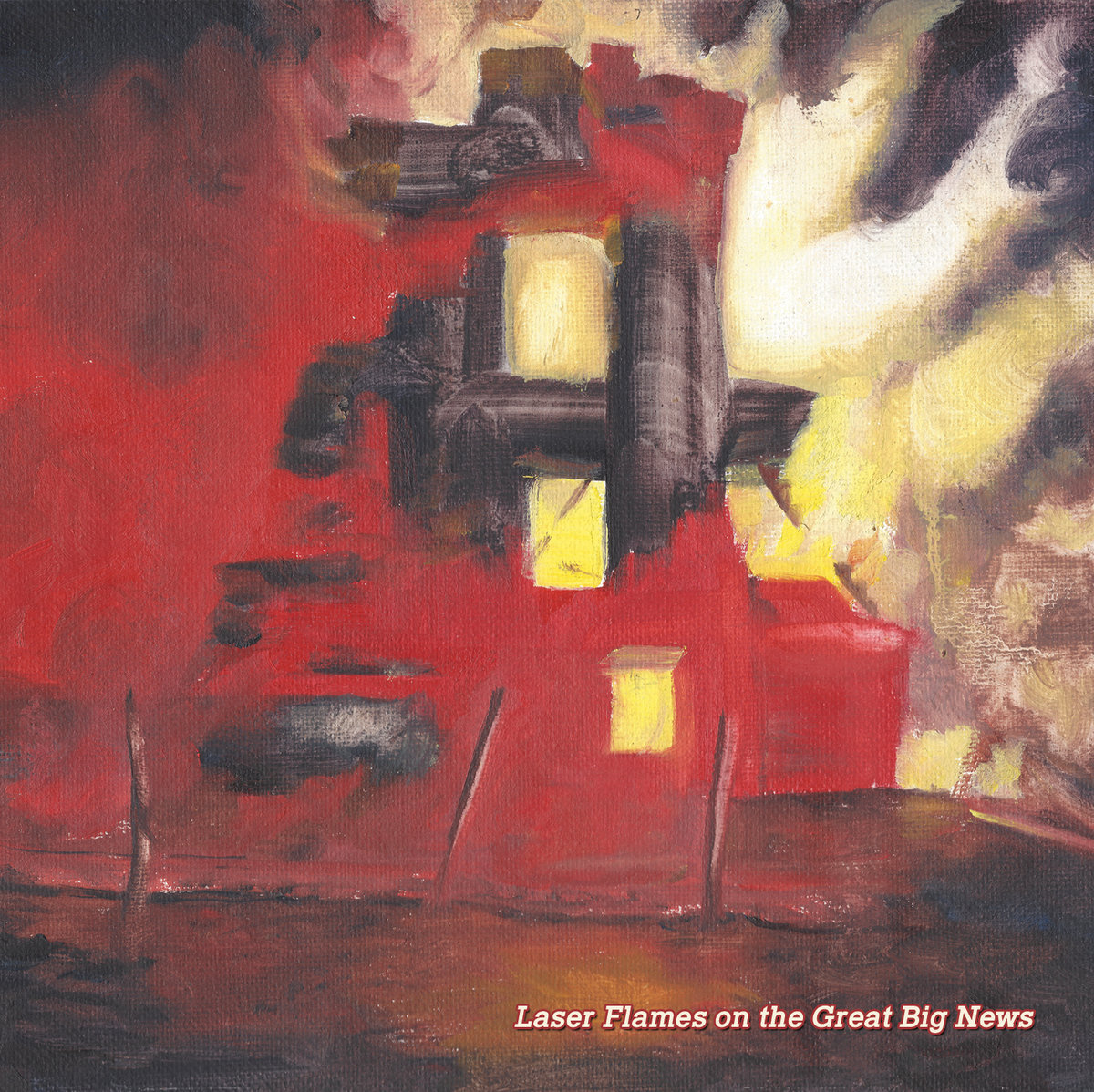 Laser Flames on the Great Big News hail from Tennessee, USA and feature members and ex members of Enfold Darkness, Rwake, Today is the Day and The Protomen. Laser Flames on the Great Big News is the follow up to their previous EP, Lambs to the Slaughter and the band have described their sound as indescribable. They state a list of style that they use and mix them up to make their own sound, making it hard to list them all without sounding like I am just ticking off a long sheet of musical genres. The way they describe themselves is a generalised, broad sweeping statement that has been said many times before by other acts, so will Laser Flames.... truly stand out from the crowd?
01 - Intro
This track does exactly what it states on its title, it is a brief one minute plus track with lots of pulsing bass, guitars sounding like they are singing and a feeling like a lost Queen instrumental (I mean this in the best possible way). It sounds great, but it is just here to drive up the anticipation.
02 - 31 Years
We leave the classic rock sound to go into stoner rock in one easy jump with "31 Years", it is a stomping tune that mixes up the noise and has a bit of classic metal added to the sound as well, something that is
emphasized

with the guitar solo. It is a strong opening and at just over four minutes in length, it is also the shortest track here (outside of "Intro"), it immediately grabs you and drags you along without a care for your health or well-being. What a great song!
03 - Lashes
"Lashes" is a number that naturally changes pace and genre over the course of the song, merging a few different styles along the way. There is a section which is country, there is a stoner stomp, there is a doom element, there is a progressive rock element, a classic rock section and it really should really be a glorious mess. However, they somehow manage to keep everything together and tight as a bolt, making each section feel like a natural link in a chain without appearing to be forced or without purpose. I really like this song, it should not be working, but it sounds brilliant!
04 - Open, Dead and Doomed
Doom, doom, doom, doom! That is the flavour of the day with "Open, Dead and Doomed", it is a heavy slab of rock that just grows with each repeated spin of the record. The contrast in vocals, the beautiful pace of the song and the sheer, heart wrenching attack on the audio senses is a joy to behold. I love the way it seamlessly flows into each section of the song, each slight chase of pace & style (at the end, the blast beat, death grind section is fantastic), each frantic riff and drawn out bass note is mixed to perfection. What a song!
05 - Beloved
"Beloved" is the penultimate song of the record and the longest track on offer as well, coming in at just under twelve minutes in length. Once again, it is a mixture of styles, but it never feels forced and each section is a logical and linear progression. It is so absorbing that you barely realise that the time has passed and it feels like it has just started when it reaches its conclusion.
06 - Flame High
All good things must come to an end and we have reached the end of this album, which ends on "Flame High". Out of all the tracks on offer here, it is the one that I struggled with the most as it felt as if they were ending on a straight forward number. It is not a bad song, but it has followed five stellar numbers that have showered this band in glory. However, whilst it is not my favourite of the album, it is still a good number that has a fantastic solo towards the end.
As far as debuts in 2017 go, this one is a special album. It is hard to pigeon hole and even harder to put down. Overall, the style is predominately doom, with a large slice of progressive rock and metal as well. The execution of the music is fantastic, it takes real confidence in your own abilities and that of your fellow musicians to have the guts to realise an album of this quality as your debut. This is something they do with a maturity beyond their years and they manage it brilliantly. If you want to hear a band that are not afraid to push themselves to the limits, look no further than Laser Flames on the Great Big News.
9 out of ten - Almost perfect, almost......
Top track - Open, Dead & Doomed
You can purchase Laser Flames on the Great Big News on Bandcamp here.
You can purchase Laser Flames on the Great Big News on Amazon here.
You can follow the activities of Laser Flames on the Great Big News on Facebook here.
You can stream Laser Flames on the Great Big News on Spotify here.
You can stream Laser Flames on the Great Big News on Deezer here.
You can stream Laser Flames on the Great Big News on Tidal here.