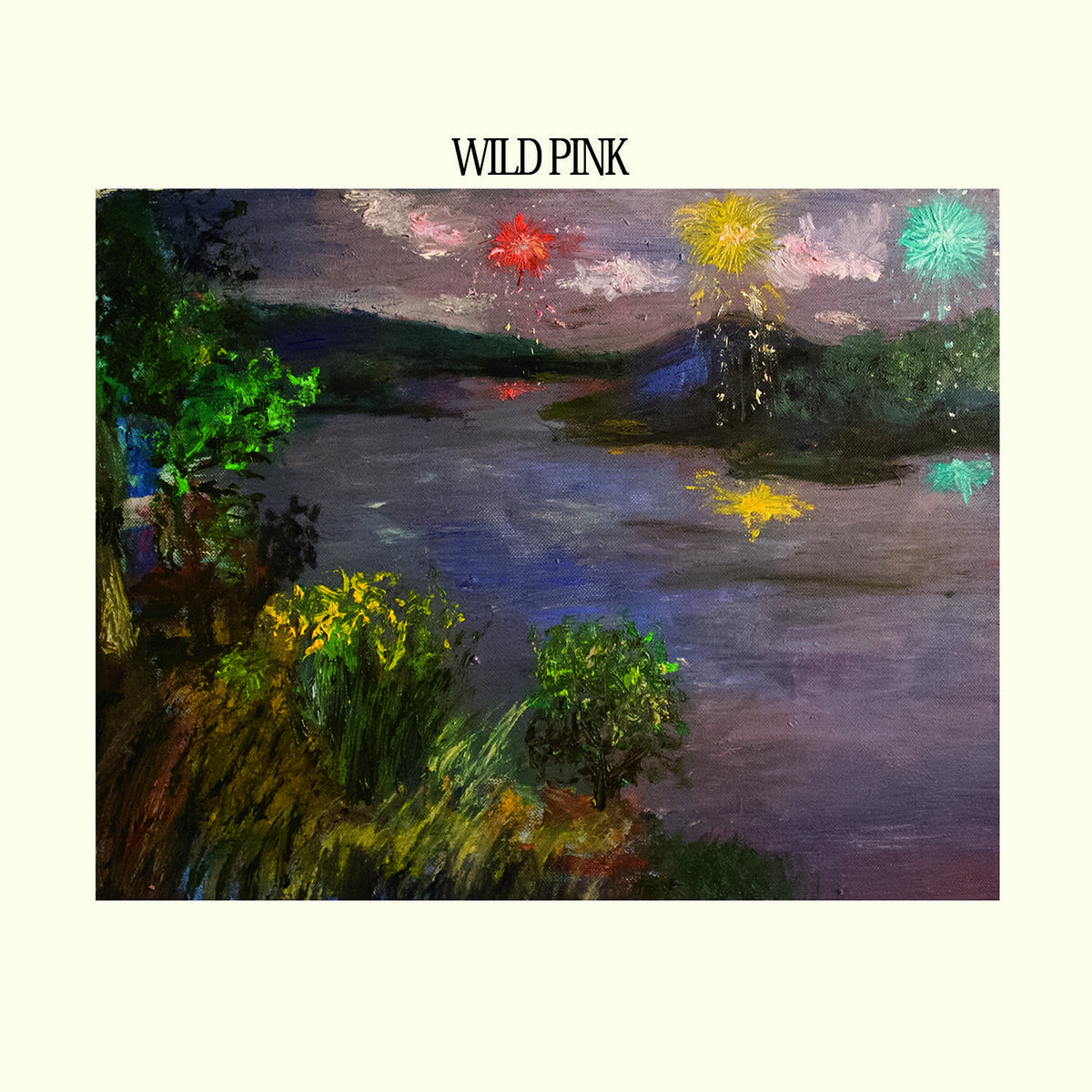 You know, I love the name of this band, and if you consider that I am not a fan of the colour pink and I am colour blind, the irony is not lost on me. Until about a month ago I had never heard of Wild Pink, but I was researching for bands to play on my show Attention Please on NE1FM in the North East of England, and I tend to look through Bandcamp quite a lot. I cannot remember how I reached it, but I found myself on the Tiny Engines Bandcamp page and I saw the cover for this album. Technically, this could be another cover roulette review, but as I found this for the show then I cannot do that. I had a listen and I immediately wrote the name down to check out the whole album later. Now, about the band (and this will be brief) they are currently based in New York City, were formed in 2014, and the members of the band are John Ross, TC Brownell and Dan Keegan, that is all the information that is on their Facebook page. So, without much further information, it is time to review the record.

01 - How Do You Know If God Takes You Back

Starting with an atmospheric strumming, 'How Do You Know If God Takes You Back' muses over how some things are just dark and so final, with guilt and other strange feelings.

It is an average opening, which acts as more of an introduction to the album.

Short, sweet and over before you know it.

02 - Great Apes

'Great Apes' is the first track proper on Wild Pink and they come across as the love child of Jonah Matranga and the Weakerthans, after one of them had an affair with Sparklehorse.

It is the blend of alternative rock and emo that would have been huge back in the late 1990's, but is still sounding very solid in the here and now.

It has a massive hook which acts as a chorus that sticks in your head, some random lyrics that will mean something to some people, and just sound like nice words to others, all packaged in a stomping song that will ignite a room in unison.

03 - Broke On

We have more heart-blistering melancholy from Wild Pink in 'Broke On', the guitar is loud on this one as it gives greater emphasis to the music.

The lyrics jump from subject to subject, much in the same way that a cat jumps ledge to ledge.

It starts off low and subtle, talking about the surrounding and PMA, but soon they explode into life and it becomes a loud number and it makes me smile.

It's fun just to immerse yourself into someone else's vision and focus on the tune, knowing that the lyrics are just as important, and will mean more to others, which is also fine.

04 - Playing Through a Drip Related Injury

This is a song of two halves, with the opening three minutes setting out the story of regrets and lost loves that progresses at its own gentle pace in keeping with the style of the album. The second half has a heavier pace to the music and feels a little aggressive in tone and performance.

But both sections complement each other, and it would not work as well if they

were two independent tracks. It reminds me a bit of Guided by Voices and that is not a bad thing in my books.

05 - Battle of Bedford Falls

This is one of the heaviest track on the album, but this is not just musically, as it has a heavy meaning behind the words; its a song that seems to be about standing true to yourself, and to have the dignity to fall on your own sword when it goes wrong. It is also speaking of isolation, and being unable to communicate with others outside of social media and aggression.

I find myself returning to this and 'Great Apes' a lot, the music is so full of hooks that it could be used in a cloak room.

06 - Wizard of Loneliness

Isolation is once again brought reluctantly into the spotlight on 'Wizard of Loneliness,' as the band create a dramatic piece that is a contradiction to the calming nature of the music. It is in keeping with the pace of the album, even when the feedback at the end of the song stops echoing around your head.

07 - Albert Ross

Everything has slowed down in 'Albert Ross,' as the reflective and remorseful sound of the album starts to reach a peak in my mind.

The regret is dripping from every note and barbed lyric that emerges from the speaker, without hope of reprieve or forgiveness being annotated (do you mean anointed? as annotated means like a dictionary with details on stuff like the extra info terry ratchet used to give I guess-on the bottom of the page) onto anyone.

It is the song that I have struggled with the most here, it is well played, but it does not hit the heights of other songs on the album.


08 - Nothing to Show

The music picks up the pace on 'Nothing to Show,' as the bad lament their lack of reward for what they have achieved; it all comes out in this heavy indie piece that appears to come out of the Lou Barlow song book, as it has a lot of Sebadoh about it.

I like this little explosion, it is exactly what the album needed at this point-something different.



09 - Wanting Things Makes You Shitter

Oh, this is a dark track – it is acoustic and full of harmonies and reflection.

It is strong, short, and you can hear the strings being ripped up in the passionate way that some players can only hope to achieve in the way that this band have achieved.

To make some of the noises that come out of the guitars on this song, whilst being acoustic, is a hard act to follow, and I applaud them for the sound on this song.

It is a bit too short, but it is still a great song.

10 - I Used to Be Small

It's back to story telling mode for Wild Pink, with a tune that sticks in your mind for a long time after it has finished.

It shares similarities to the dream pop style of The War on Drugs and Ariel Pink, you really find it appearing in your mind when you least expect it.

A song about feeling insignificant and the way that can change, the concept of culture and other existential dynamics and events that can affect someone.

It crosses from each subject line to line, changing with the same sort of ease that David Bowie would change persona.

11 - They Hate Our Freedom

'They Hate Our Freedom' starts with a quiet and reflective style, that has been the main corner stone of this album; this is soon enveloped by the loud crashing sound of the band (in a given sense of the word loud, it would still be silenced by Napalm Death).

It is a song that does not sit quite right in my mind, it feels like an add-on to the album, and it could have ended a track sooner.

It's not bad, just not essential either.

This album could only have been produced in America; it has a sound that you get from bands such as Pinegrove, The Weakerthans, and Sparklehorse. It is similar to the way that The Smiths, The Libertines, Maximo Park and Kaiser Chiefs could only have originated in the UK; they carry the sound of their home country like a flag which is flying high in the wind for all to see.

As bands are defined by their sound, you would think that some acts would not translate too well – I am glad to say that this is not the case with Wild Pink.

I know I have mentioned a lot of other bands in this review, but they seem to wear their influences on their sleeves and that's ok.

Their music sounds like you are in a melancholic dream where memories are animated, but not unfriendly or scary, they are just existing; and as is the case with dreams, they are open to interpretation, and each listener will hear something different.

If there was anything that could have been different, it is the fact that the album is top heavy with slower numbers, but to be honest, that is just me struggling to play devil's advocate on this review.

It is an enigmatic little album, one I would recommend for the dreamers.

8 out of ten – Oh, now you have my attention and maybe my time, money and heart

Top track - Great Apes
You can purchase Wild Pink on the Wild Pink Bandcamp page here.
You can purchase Wild Pink on Amazon here.
You can follow the activities of Wild Pink on Facebook here.
You can stream Wild Pink on Deezer here.
You can stream Wild Pink on Spotify here.
You can stream Wild Pink on Tidal here.