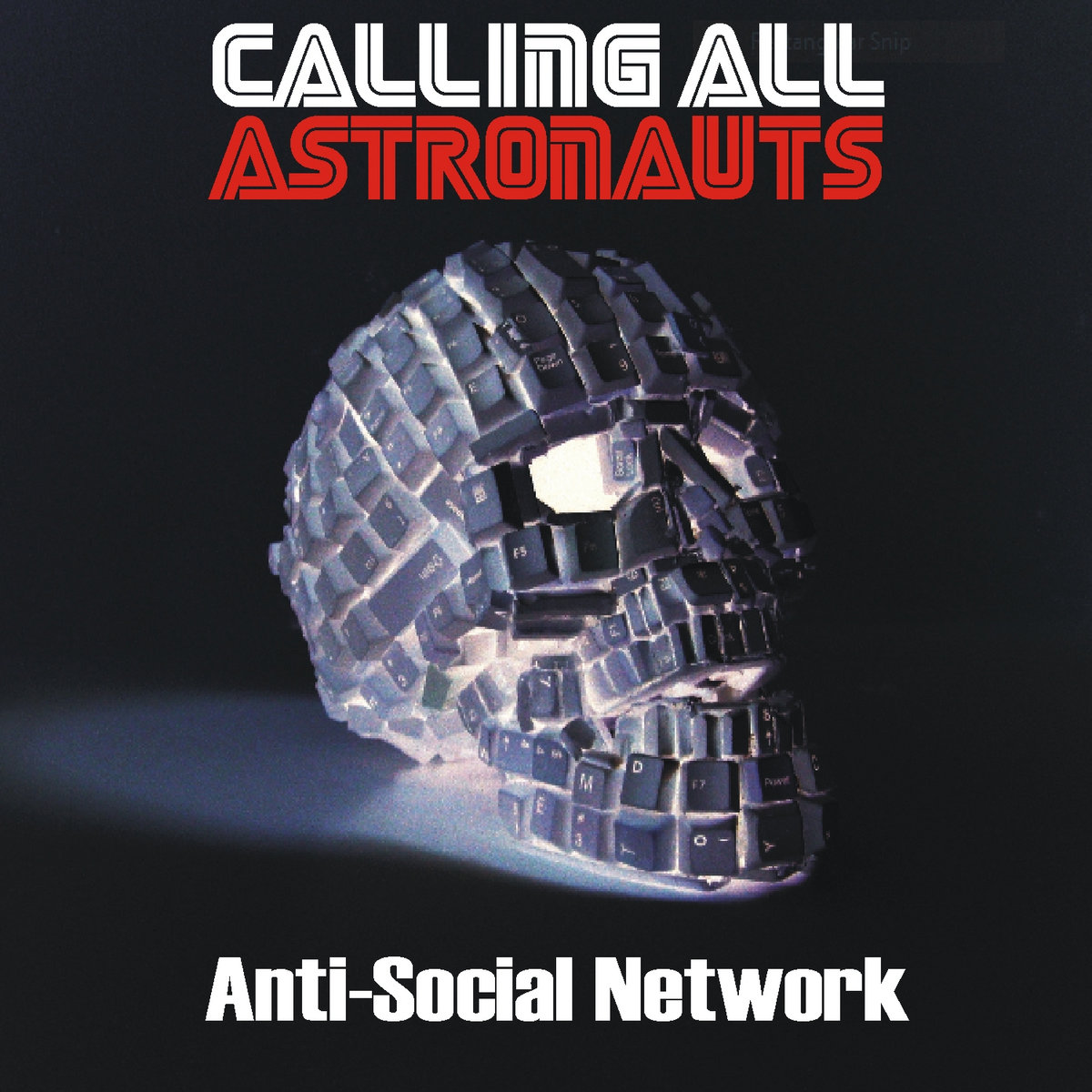 It has been a while since I heard the name Calling All Astronauts, I was told about them a while back and I had always meant to pick up and look at one of their albums. Well, in March they released this one and I sort of got side tracked, still - better later than never (and a good job the band have an excellent DIY ethic for their stuff, always promoting their cause and (probably with a touch of irony, considering the title of this album) on social media quite a lot. Calling All Astronauts are based in London, UK and consist of vocalist /programmer/producer David B , ex Caffeine guitarist J Browning and Marionettes bassist Paul McCrudden. This is their second album and the artwork of the keyboard skull was created by South African sculpture artist Maurice Mbiyaki. I think it is a beautiful piece of art, but how does the music sound, will it match the impact of the artwork?
01 - Living the Dream
This is a strong start to the album, a mixture of old school goth/post rock noise that is entwined with a drum machine, the vocals are delivered with a confidence that is required for this music. It is an interesting song that makes me reminisce about the times I went to Whitby Goth Festival, which is a festival I think this band should play (if they have not already). The pace is slow, but it is perfect for this song and it is a real earworm.
02 - Empire
The speed is picked up on this number, with a riff that reminds me of 'Vision Thing' era Sisters of Mercy and more Johnny Cash inspired vocals. The song sounds as if it is perfect for the club, with a message about things coming to an end and about losing everything. It was the first single to be released of the album and it is a very good introduction to the band and this album.
03 - Time to Fight Back
With a little piece of vocal manipulation, this song starts with a bigger focus on the electronic side of the band, it is more danceable, it has a high tempo and energy that is a song that I can imagine that would take no prisoners in the live set and it would also be going down a storm in any alternative nightclub around the world. It reminds me of dance group Messiah and a little bit of Pitchshifter as well.
04 - Hands up Who Wants to Die
Mixing both style into a slower number, it is back up to the social commentary and it is a good tune. I will be honest, I am not quite feeling it as much as some of the other songs; but it does have a good hook in the middle, the drum machine is strong and the vocals & lyrics are on par with other tracks on the album. But for some reason, it does not make me as excited as other numbers.
05 - Life as We Know It
This song is another enigma to me; it is going for the retro feeling once again and it has a strange rhythm that seems to go all over the place. Sometimes it is the guitar, sometimes it is the bass and sometimes it is everything about the synths and the drum machine is the only constant thing in the song. It even has a part where the bass is doing a solo as the guitars drift around you. I like it, but it is a strange number that does not sit well with you for the first few listens and it could well be the track that will be labelled 'grower' in years to come.
06 - The American Dream
This song is a heavy number from the back, disgusting the modern world and the American dream that muses what it would be like to say farewell that ideal and it is draped over a rock number that has a hint of Nine Inch Nails to the sound with a bit of The Mission as well. I really like this song, it has a great riff and more attitude than your average punk band can muster these days.
07 - God Is Dead
A standard track to be honest - a song that rebels against God (or the lack of a Deity in the world) and it sounds as if it is scream at the institution and its followers. It is fuel by a hatred and it does drive the album along with a fast-paced riff and drum machine combo, but it is not saying anything to me that has not be said before musically or lyrically; so, as I said at the beginning, a standard track......
08 - Always Be True
This is a song that I like and in some way, it could have been stripped back a little bit as well. It is a simple number with a message about stand by your convictions. Sometimes the electronic elements of the song overwhelm the number a bit, but overall it is another good number on this record.
09 - Look into Your Eye
Fast and furious, this little fireball of a song is making all the right noises about being pissed off, angry and taking the world on. It is an aggressive three minute plus number that sounds so pissed off, it is a great rock number that is on a different level. Best song of the album and it is glorious!
10 - Black World
This moody piece of alternative Goth Rock is slow burner that gets better with repeated listens, a dynamic piece about wanting not wanting to be a hero and needing to have a companion. At the core of the moody number is a slow heart beat and a steady riff that is moving slowly around and laying little hooks that stick in your mind and give this song a strong presence.
11 - Divisive
Aiming to go out with a bang, 'Divisive' hits all the right marks as it ends this song which has a hard edge and is looking at the state of the planet. It is a good number, a number which condemns the darker side of the human race and brings the curtain down on the album. It is a decent enough number which does enough to end the album on a good note.
Sometimes this album has a little too much going on in the numbers, which is quite an achievement to be honest. Musically Calling All Astronauts are at their best when they are hitting you with a sonic punk/electronic hybrid noise. Sometimes the music has a few too many layers, but sometimes they mix it brilliantly and there are some amazing hooks along the way. I like the fact that this band exist, they have made an album that shows that the genre is not dead and it has a hell of a lot to say about the world and they are pissed off - also, one of the best pieces of artwork from 2016. Definitely an album that I would recommend to anyone with an interest in goth/punk and alternative rock.
7 out of ten - This is good and well worth checking out
Top track - Look into Your Eye
You can purchase Anti-Social Network on Amazon here.
You can purchase Anti-Social Network on the Calling All Astronauts Bandcamp page here.
You can visit the Calling All Astronauts website here.
You can follow the activities of Calling All Astronauts on Facebook here.
You can stream Anti-Social Network on Spotify here.
You can stream Anti-Social Network on Deezer here.
You can stream Anti-Social Network on Tidal here.
You visit the Calling All Astronauts page on Soundcloud here which has Anti-Social Network and other releases here.