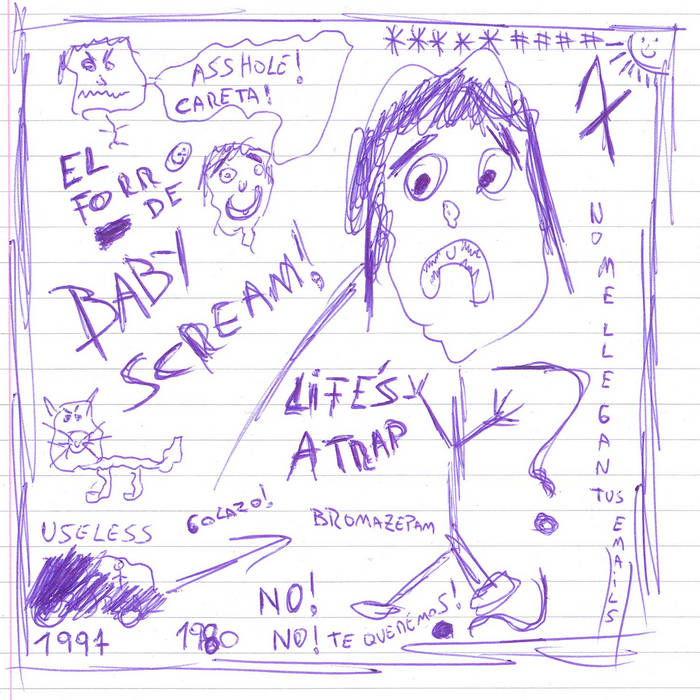 This is the second time I have reviewed Baby Scream after I had reviewed 'Fan Fan Fan' (review cleverly linked here) in January 2016, I found their sound to be really refreshing and I have actually returned to 'Fan Fan Fan' quite a lot when I have been wanting to listen to something that hits pop, sarcasm and innocence (bear with me on that one), which I am sure you will agree is a hard trio to get. Power Pop act Baby Scream are from Buenos Aires, Argentina and have been going since 2002, their songs are sung in English and to be honest, I have been hoping they would release something else. This EP is currently as of writing only available on the Baby Scream Bandcamp page, with the band aiming for a Harry Nilsson, Big Star type feel; have they achieved that aim?
01 - Life's Better When U R High
'Life's Better When U R High'
starts the album with an ode to being medicated (prescription or self-purchased) and how it can sometime alleviate the pain of life and the boredom that can seep into the world. It is a melancholy type of song, a sad lament with a beautiful solo and the sort of tune that Baby Scream seem to be able to go in their sleep. The mournful lyrics are really clever, the music is beautiful and it starts off this song on a glorious (if not sad) moment.
02 - The Ballad of the Music Biz
This song is incredibly jaded, lyrically and it sounds all the better for it! A tune about the challenging environment that bands can find themselves in and the hardships that can be felt when people put themselves out there and no-one is paying attention. A symphony on acoustic guitars and lavished with strings and sadness. It is a familiar tale that a lot of people experience, told with pain and good grace in equal measure.
03 - Climbing Down
This song made me laugh out loud with some of the lyrics, I am not sure that was the intent to be honest and I do not mean it in a disrespectful way; but the opening set of lyrics about being puked on, bodily fluids and hair pulling is a bizarre and fascinating. But the music behind the lyrics is a luscious pop that should be played as loud as possible, a masterpiece of satire and pop perfection.
04 - We Can't Go Back to 17
A tale about not wanting to grow up, the pitfalls of adulting and all that sort of thing, losing your hair, family, loved ones and it generally sucks to have the years add up. Again, it is a morbid set of lyrics that is added to some fantastic pop that feels familiar and new in the same moment. It is the song that took a little longer to get into, this might be for the minor keys in the music; but overall it is still a great tune once you get into it.
05 - Wish You Were Beer
This is my favourite song of the album, a mixture of They Might Be Giants, Shadowy Men On a Shadowy Planet, Ren & Stimpy (Cartoon show) and old 70's sci-fi music. It is a clever pop song, one that loops around your head for days and days as it tries to drain the old worn feelings out of their collective heads. It is the nearest this song comes to a happy place and I love that, it is just a perfect pop gem that has me smiling every time I hear it!
06 - Jokes
'Jokes' is the shortest song on this album (and none of the songs can be described as lengthy) and it is one of the most heartfelt number that tells you not to give up, to speak to friends and to take those extra steps. I love the solo on this, the guitars are splendid and the feelings are gorgeous; if I had to nit-pick, I just wish it was longer but that is just looking for problems.
07 - The Road Bends
This is the penultimate song of the album; this is a rock/pop song that grows as the song progressives into a fantastic song. It is about not bending to life, having a destructive side and just trying to figure out what the deal with this mortal coil. It has a great riff, a backing choir and it builds to a massive ending that feels like it is able to keep going and going.

08 - Midnight Snack

Sadly all good things come to end and this album is no exception - but it goes out on a chilled out guitar tune about a midnight snack of beer and weed. It is a gentle way to end this relaxing about, it ends it perfectly with a laid back attitude to the world and a smile hidden in the eye as well.
What a great little album, eight fantastic tracks that are gentle on the heart and ears, easy going and they just keep giving and it is one of the surprise releases in 2016 as it has been on my play list ever since Baby Scream were kind enough to send a copy. It is gentle as breeze and strong as a hurricane, it does not give more than is required and each song is perfectly formed. If there was one point of contention, it would be that some of the songs could have been given an extra moment or two, but I am just looking for bad points that are not really there. I was asked by Baby Scream to also mention that he has released a song called 'Dave' and it was released under Baby Scream's real name Juan Pablo Mazzola. It is a charity single that he wrote after a friend had lost her husband and to help families in similar situations and the charity is called music4charity. I have placed a link for the website at the bottom of the page and I hope you check out the website, as well as checking out this album as it is a little stunner!

8 out of ten - Oh, now you have my attention and maybe my money, time and heart.
Top track - Wish You Were Beer
You can purchase Life's A Trap on the Baby Scream Bandcamp page here.
The digital version of Life's A Trap will be available on Amazon on 1st December 2016 - you can pre-order here (but why when you can get it on Bandcamp now!)
At present, Life's A Trap is not available on streaming sites; again go to the Baby Scream Bandcamp page and purchase it!

Here is a link to the music4charity website