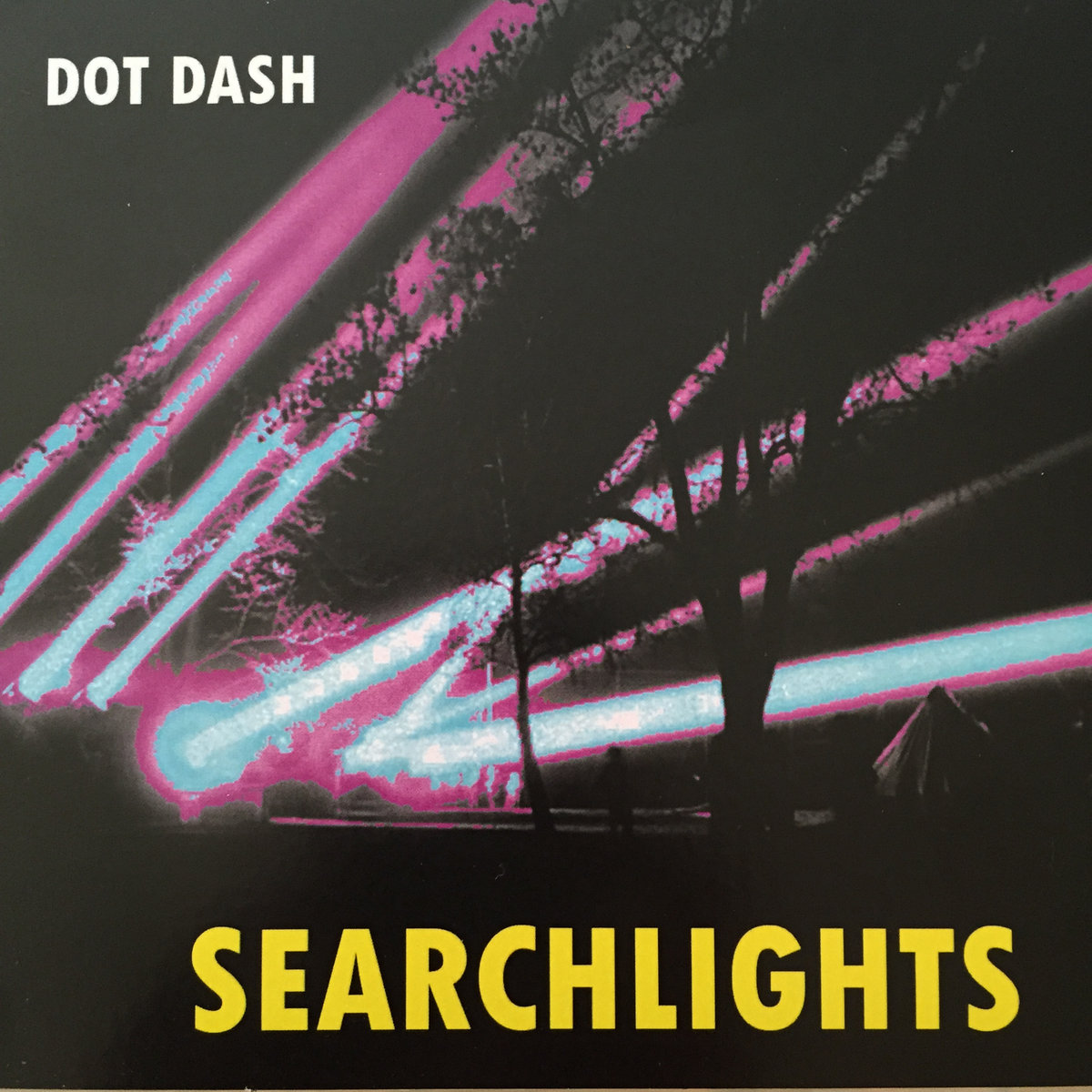 Well, it is time to review the latest release from Dot Dash. A brief catch up - Dot Dash contains ex members of Julie Ocean, Swervedriver, Minor Threat, Youth Brigade and many more, they are signed to Canadian record label The Beautiful Music. Last year I reviewed their fourth album 'Earthquakes & Tidal Waves' (review cleverly linked here) which came across as a good, solid rock & roll album with its heart in the right place. With the release of their fifth album 'Searchlights', they have gone for producer Missy Thangs to guide them on their next rock odyssey. Whilst not much time has passed since their last release, it is good to hear that the band are in the sort of form where they have the confidence to release a second batch of songs so quickly after their last record. It speaks of a time when bands might release two or more records during a year - the first two Led Zeppelin albums were released within ten months of each other in 1969 for instance. It signals growth within the band, to match the confidence and now, it is time to see how the album has turned out....

Starting the album off is "Dumb Entertainment" which starts off where the last album left out with a hint of Replacements, a huge dose of rock & roll and singer Terry Banks sounds as if a fire has been lit inside of him as this sound dedicated to dumb entertainment/rock & roll starts the album as if a party is in full swing. It is a simple song, but effective - it is not a great scientific secret to write a good rock song, but it is hard to make one as catchy as this one. "Lonely Serenade" keeps the energy going on this album, with an up-tempo, hard punk rock & roll anthem that sounds a little bit more than pissed off. I like this song, it is the perfect combination of influence and talent which brings out one of the fieriest tracks I have heard from this genre this year. It is hard hitting, full of fucked off energy and attitude - what is there not to like on this one? Title track "Searchlights" follows on, keeping up the short, sharp, faster rock & roll pace that has been the signature of this album so far, there is an honest desire behind this song. It does not explode into the world, but rather like the rule of making the perfect mix tape, as it is the third song it takes it down a notch whilst maintaining the passion and drive. "Crumbs" for me is a song that does not quite gel for me, but this is purely down to personal taste on this one. It is a decent enough number with a pleasant enough sound, a good solo and some interest lyrics; but there is no excitement for me to mark this anything other than "alright". "10,000 Days" on the other hand works much better for me, even though it follows a similar pattern in my mind's eye. It is a much shorter song, punchier and to the point (even with another brilliant solo) and that makes all the difference, it is high-octave song which has the same energy as the initial songs and it is just as energetic, compact and perfectly formed.

"Wishing Star" is a slow number, a much needed break in the album with a relaxing vibe and calming nature that comes from the very core of the number. It does not stay around very long, it has that punk rock mentality of being out of the door when all is said and done with just the memory of the track remaining. I like this song a lot, it is a beautiful number with a calming nature that is missing sometimes in mainstream music. "The Infinite" is another teenage anthem that is waiting for their audience to sing the words out loud in unison with the band, but the teenagers might have a bit more experience in terms of years to be honest. It is incredibly retro once again, but done with such a love that it is hard not to smile when it is on and even harder not to sing along with it. "Summer Lights" is another song which does not quite hit the spot for me, much in the same way as "Crumbs" it has all the sound in the right place and it does not quite gel for me. Nice enough, but it is not quite there. "Dance on Broken Glass" however, is a better song for me as it has an edge to the sound and a level of self-doubt to it that makes it much more exciting a prospect from the very beginning of the song and it does not stop all the way through. It is one of my favourite on the album as it dares to more from the template (even if only slightly) and it is a song that will go down well in their live set. "Woke Up Saturday Night" is the tale of a night owl who is haunted by himself, his demons and living in twilight and shade. It is an existence which I have lived once, not the best time in my life to be honest; this song is a great number, very informative and done with a great dose of flair.

"Holly Garland" follows on, it is the shortest song on the album with a plea for love and requiring an embrace. But it is another number that does not quite make it, it is played very well once more with the same passion and drive as other songs on here; but it does not connect with me on an emotive level, which is something that a love song should do to the audience. I know other people will love it, but it is not for me. "Something In-Between" was so close to being the song of the album, if it were not for "Dance on Broken Glass" it would have gotten it. It is a song that sings to me, speaks of dreams that are achievable and that it does not have to make sense for it to work. I love the riff, the strange lyrics and such great bass/drum performance that it is hard not fall under its spell. "Daddy Long Legs" is silly song, it does not make much sense and I really do not care. It seems to be a little more carefree than other songs on this album, it just feels like a release of tension and even though it does not quite reach the heights of other songs on the album, it is definitely one of those tracks that will make you smile. The penultimate song is called "Fading Out", which is the longest song of the album. I think this should have been the last song on the album, or to be merged with the last number as it has that end of an album feel to it. It is a defiant song, not satisfied and full of hope and determination - it works really well, it has a good solo and as it is almost double the length of most of the songs of this album it could have been a grand finale. But that honour went to the gentle and old school "In The End", another song about not leaving till tomorrow what you can do now, even if it does not matter when all is said and done. It is a decent enough of a number, but maybe it would have worked better in terms of album structure as a secret track or merged with "Fading Out". But that is just musing to be honest, it is lovely enough and sends you on your way with a gentle nod and toe tap.

Overall, this is a good album that needed a little bit of a trim for me. Make no mistakes here, I really do like Dot Dash and when they hit the right spots on here, there are few bands in the world who could perform better than them. Their mixture of Replacements, old school rock & roll and a by-gone era where everything needed to be said in three minutes in a four/four-time signature is something that the world needs every now and then. It is an album that works better being played in one run, as some of the songs work better in the collective. Which brings me to my own personal elephant in the room; there are a few tracks on here which could have been used for an EP afterwards, maybe as B-sides or bonus tracks as well which would have probably worked a bit better. With this in mind, the good points out weigh this in the end; sometimes you need that sound which was emotional, rock and punk before it was cool and fashionable, sometimes you need a band who you can identify with and more times than not, I identified with a lot of this album. A good record, but to be listened to in one whole run.

7.5 out of ten - This is good and worth checking out.
Top track - Dance on Broken Glass
You can purchase Searchlights from the Dot Dash Bandcamp page here
You can download a free sample from the album, in the form of the song "Daddy Long Legs" from the Dot Dash Bandcamp page here
You can follow the activities of Dot Dash on Facebook here
You can stream Searchlights on Spotify here
You can stream Searchlights on Deezer here
You can stream Searchlights on Tidal here