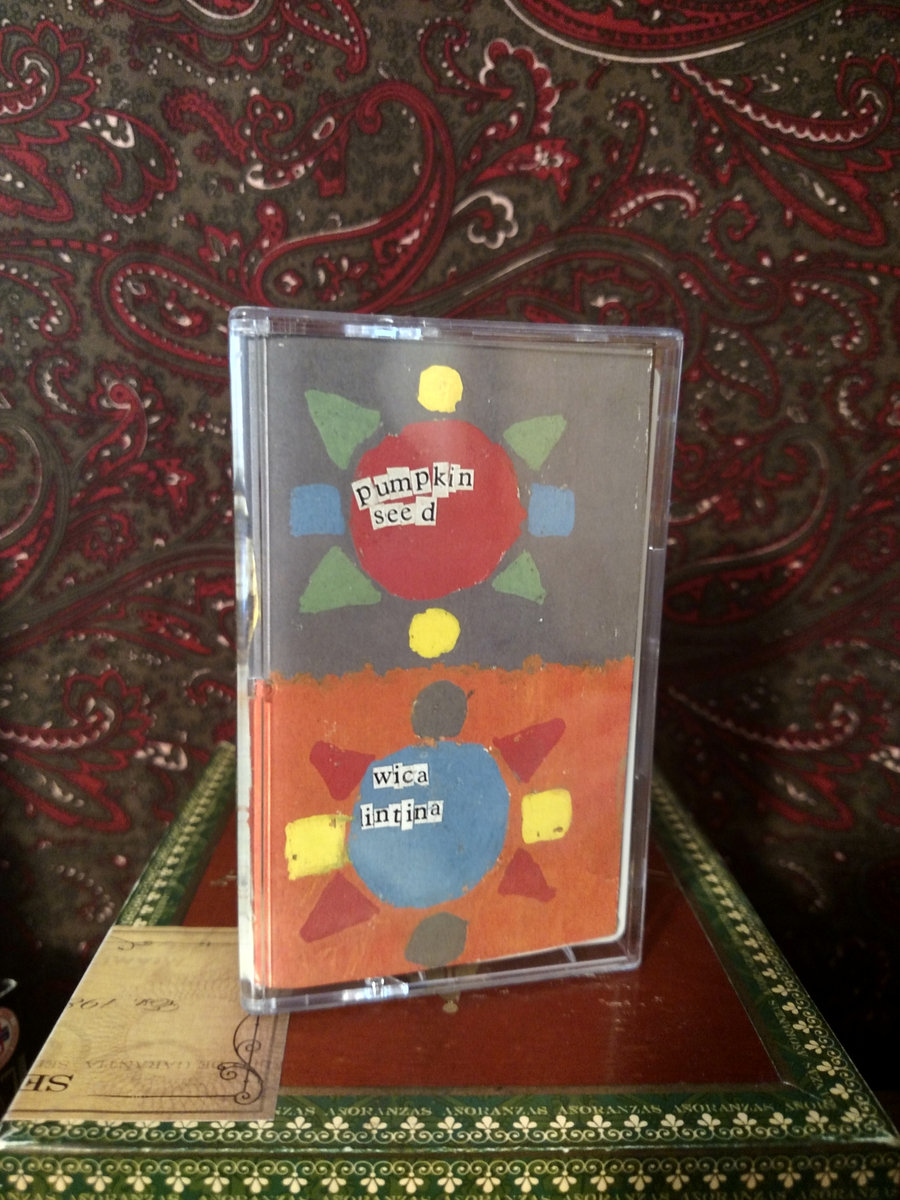 Another submission, this time it is a split release from Pumpkinseed and Wica Intina that has been released by Meliphonic Records. This is a split release from Pumpkinseed and Wica Intina. Now, I cannot find anything about Wica Intina apart it is the project of one Dakota Brown, who also performs with the band Sheep Bella Tine. After that, it is hard to find much more about this project on the interlink (or that could be down to the mystic that is surrounding the project). Pumpkinseed, now I can give a little bit more information about these guy - This is the pseudo name of Daniel Gardner who comes from Smyrna, Tennessee, America and they claim to be a soul band who are influenced by My Chemical Romance, Neutral Milk Hotel and Eddie and the Cruisers. I have a feeling this is not the case if I am honest from the outset, but we will touch upon that later. What we have here is two bands who might not be the biggest in the world, but who have helped each other with a joint venture that will ultimately spread their music to a wider audience. But will they complement each other or will it be a marriage made in hell? Let's see how this union has turned out....
Starting this split release is Pumpkinseed with five songs that start with "Yanga Yanga" which acts as a Captain Beefheart/Tom Waits opening to this side of the record. It is drone/no-wave noise that sounds as if a conversation is happening in the background of a projection room in a cinema or a fan is making loads of noise as the guitar is being played in another room for the first half of the song, then the conversation/fan noise is took out and the guitar keeps going until a sample of a country & western song comes into the sound and it sounds like a strange noise project, definitely an interesting way to open this split release. "Dakotas Room/Holidays" is a lo-fi, acoustic & noisy number which is based around the Christmas holiday season and comes across as a mixture of Tom Waits & some of the most stranger moments of the Frank Black & The Catholics first album on a down-tuned melodic moment. It is melodic in nature, tainted with sadness and a little frosty on the sides and the fuzzy production adds a strange layer to the overall sound of the track. "Dickeys Fever Dream" is an alternative country nightmare in red velvet and stabbing the corpse of Americana with a wicked glee in the eye. The banjo/guitar sound is surrounded by noise and it sounds like it is running for its life, trying to keep away from the noise that is swarming around it - I love it, it sounds quite fucked up and the words 'Fever Dream' are perfect for this song - the best of the tracks from Pumpkinseed, just for being so outlandish. "Sister Sunray/Sister Bluebird" follows a similar pattern to "Dakotas Room/Holidays", the production is back to the lo-fi end of the scale with a great tune that is covered in a tinny sound to the recording and it gives the song a messy production sound. It is a good number, with strange edge to the number that makes it hard to gain comfort from. It is like a fractured mirror, beautiful & broken at the same time. The final song from Pumpkinseed is "Signs of the Father" which is a sub two-minute track which comes through a burst of static and it comes across as a strange Alt. Country cowboy song with a dose of noise and strange playing that comes from too many good things and not enough sunlight.

This is my favourite track from Pumpkinseed, it is messed up, noisy and a little too short – basically it reminds me a lot of Sparklehorse and that is always a very good thing in my books.
The Wica Intina side of the split release starts with "The Remaining Tribes Move to Shiloh" which is a six-minute acoustic lament that comes across as a combination of Sun Kil Moon, Tom Waits and Kurt Vile.

It is a droning number, something that requires attention with a huge dose of storytelling and broken dreams.

It is a little long, but not to the extent where it damages the song and for an acoustic track, there is a lot happening without loops or foot pedals being involved.

"Innocent of Not Caring for His Enemies" is the shortest of the four tracks from Wica Intina, it is a slower beast and the night's long shadow is cast long over thing track.

It is a striking number with a darker side to it, there is little in the way of happiness to this song and it is a strange song.

The storytelling is the most important element of the song here once more, it under pins the track and it is actually also good to hear a track that has been recorded in one go as you can hear the odd dropped not and it adds an undeniable quality to the song – music is not all perfect notes and it should sound raw.

The penultimate song from Wica Intina is called "Ballad of the Obey" is another dark alternative country song with a tale of a relationship which is breaking apart at the seams and the regret that is hitting home when everything goes wrong – I will let you find out yourself by listening to the song.

It is a monotone, slow paced number that once again has a sound akin to Sun Kil Moon, but this time with a dash of Matthew Ryan to the sound as well.

It is not an easy number to listen to, the subject matter is not easy on the ears and it will not be for everyone; but I cannot fault to song itself as it is a strong and powerful number, just a little uneasy.

Ending the release is "Tiny Confessions" and this keeps a similar pattern to the last three songs, with a little acoustic riff which keeps on rolling along and makes a gentle racket, you have a Dylan-esque drawl spread over the song as it goes onwards and it does not really deviate from that path.

Out of the four, it is the weakest on offer to be honest; but it is worth checking out still.

This is an interesting, alternative country release which is heavy on the lo-fi end of the musical spectrum.

Each artist is so different from the other and somehow they managed to complement each other.

Pumpkinseed are further along the raggedy edge of sanity and their strange tides will make fans of Sparklehorse very happy indeed; Wica Intina is drawing inspiration from a lot of places and making his own strange tales that will be hard to consume by some and revered as holy testament by others.

Out of the two, I am leaning toward the Wica Intina being my favourite as it is pretty messed up and sometimes that hit my musical sweet spot.

It is a strange release which I think will appeal to anyone who like to wonder from the beaten track.

7.5 out of ten – This is good and worth checking out

Top track – Wica Intina – Innocent of Not Caring for His Enemies
You can purchase this album on the Meliphonic Records Bandcamp page here
You can follow the activates of Pumpkinseed on Facebook here.
At present, I cannot find any interlink presence for Wica Intina – apart from the Sheep Bella Tine project and that is not exactly the same band, so I have not linked it up here. If anyone can help me here, please drop us a message or comment below and we will up this.
At the time of writing, 'Songs from the Wooden Bell Vol 1' was not available on streaming sites.