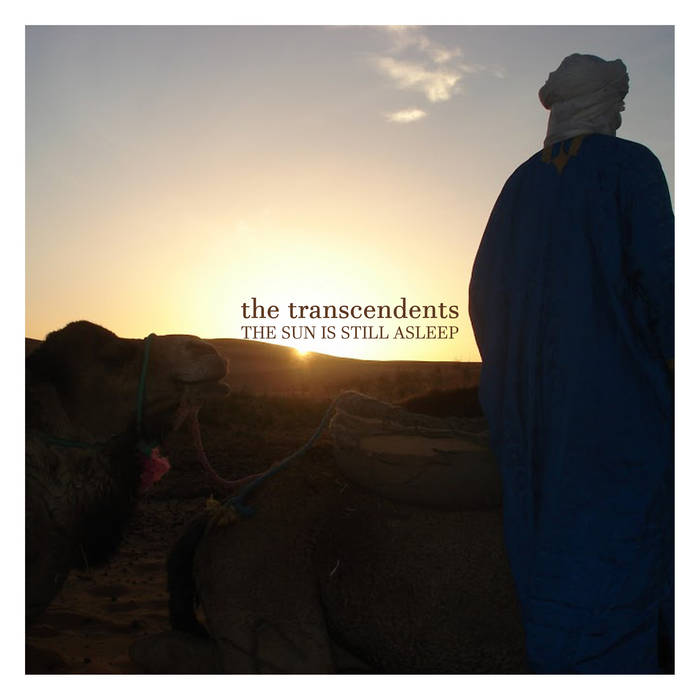 I seem to be getting a lot of bands returning to me for some reason, not that I am complaining at all, it is just something I am noticing. Today I am looking once more on the stranger side of the musical spectrum and the latest release from New Zealand natives, The Transcendents. Last year I reviewed their 'Common Ground EP (which you can read by this clever link), to say it is an out of the box record is probably an understatement. They deal in the most abstract sections of punk and noise, going from drone to Dylan lament to all out Beefheart rant; as an act I got what they were doing, but they are an act which will not be appreciated by everyone - hence why I gave their last release a box of cats. So, a little bit of a back story to this release - 'The Sun Is Still Asleep' is the third and final EP to be released on 10" vinyl (35NZD a disc, or you can purchase a digital copy of said releases), following on from 'Common Ground' and 'Lay Where You Collapse'. I love the image of this EP, the desert with a setting sun, a man on his camels as the darkness begins to form around him is an interesting image. Will the music match this? Will it still be as crazy (probably).
Starting the EP is "Spun" which starts with synth, a hi-hat and then some tripping guitars as The Transcendents release an alternative drone onto the world that moves into territory that was previously only held by The Fall and Brad, combining the abstract noise of their last release and adding something soulful underneath. It is a song that seems to be dealing with everything at once, combining the best of both worlds and extracting the essences of each one to make a droning hypnotic number that is in danger of being almost normal.... almost, it is still out there and I love them for that. The second track is called "Say Never" which starts with an applause, a Dylan strum and then it goes into a lonesome cowboy strum that mixes a drone with an off-kilt guitar strumming. It sounds as if it would change into something else every now and then, but for some reason it stays the course with the drone and it is sounds if everything is swirling around as the music moves from section to section; it is a strange track, still trying to make up my mind up if I like it or love it and only time will tell on this one. "Marrakech" is the Beefheart track of this release, but then again it is also something else as well. Some of the music is so low in the mix, it reminds me of when I was in a band and walking between rehearsal rooms - different pieces drifting together to make a strange and wonderful sound. It is over in just over two minutes which is a bit of a shame as it could have been given a bit longer to grow for me. A strange little number that brings back some unexpected memories for me. Ending this EP is "Rhetorical Hallow" with a strange pattern going on throughout the song. It starts off with an 80's tone to the guitar, which is then submerged into the sea of drone that is this band. From the stream of though, to the quite drumming, to the shifting sands that form the bases of this song - it is a strange number that will make some people uneasy as it is not the (for want of a better word) straightest of song, it is a number that will make some people run to the hills, it will make other sway and dig the sound.

This EP furthers my belief that this guys are playing to two different audiences at the same time, one living and one in another dimension as they are different to a lot of artists out there. The drone on this one is the strongest part of the EP, to the point of dominance over other parts of the sound. But it makes sense to me, I understand (I hope) where the band are heading with this release. But is it for everyone? That is the magic question, it really depends how messed up you like your music. If you are wanting to listen to bands like The 1975, Brand New or even AC/DC, then this might not be your thing. However, if you like sounds that can hypnotise and change even in the same second and when you can focus on two, three or five things at the same time; yet you are listening to just one. More cats for this band, I love them but they are brilliantly crazy.

Crazy Cat Symbol - This EP cannot be marked, so here is a box of cats

Top track - Spun
You can purchase The Sun Is Still Asleep EP on the Transcendents Bandcamp page here
You can follow the activities of the Transcendents on Facebook here
At the time of writing, The Sun Is Still Asleep EP was not on any streaming services; however, as it is on their Bandcamp page, I suggest you go there and give them some money for this lunacy.