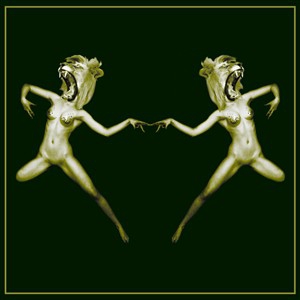 Some people just seem to float out of nowhere, even in your home town. I've heard the name Beth Jeans Houghton for a while, but it never registered that she was from Newcastle. It might be that I just feel out of the hipster circles or that I am of that age that I no longer have to go to every gig going. But this is just me getting old and has nothing to do with Mr Houghton and pre-ordained animal feet - when I saw the cover of this album I was interested. It cries back to a time when artwork was slightly risky and strange. Animal headed floosies naked in a mirror image - strange, very strange and time to see what all the fuss is about.

In the current indie sea of female performers, Ms Houghton is very much in line with the Florence, Bats and other women of this ilk. Quirky guitar playing - check. Lyrics of a bizarre nature - check. Choir background every now and then - check. This is not an unpleasant album to listen to; the songs such as "Sweet Tooth Bird", "Atlas" and "Franklin Benedict" go by at a pleasant pace which does not take up far too much of your time. In fact this album is rather short in places, but maybe that is part of the design so it does not out stay its welcome. The cheeky secret track in a punk rock style is one of the albums better moments.

However, the overall material on offer is not that interesting. Yes it is quirky and trying to be different - but it sounds the same as others. I spent more time listening to this album and comparing it to either Florence & The Machine, Vampire Weekend, Bat For Lashes, The Kinks and others that I found so little of originality in here that it rendered the experience akin to that of high school art project where you take pictures from magazines and mash them together. Also, Ms Houghton does not take her vocal range to any extremes. There seems to be a reserved nature to her performance, as if she knows she has more but does not want to put it all on show here. I think that combined with the overall homage vibe of this record makes it a record that can be classed as work in progress for this group. However, if this is them at their best it can only be classed as disappointing.

4 out of ten - Well it is alright, but still......
You can purchase the album here
You can visit the band's tumblir site here
There is also a blog....
You can hear the album on Spotify here