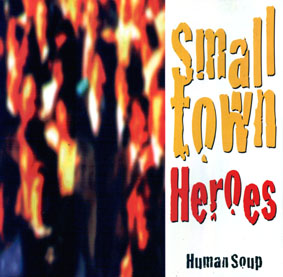 The also ran' - for every band that makes it, there is thousands of bands that have not. Names such as The Rye, Whatever, XLR8R, b.l.o.w., Profondo Rosso, Laxton Superb - I am sure you have your own lists of bands you have seen/heard who just blew your mind but did not make it. One of the few I can share with you is this band - Smalltown Heroes. I really don't know much of their background. They were from the North East of England, and were originally called The Troubleshooters - changing their name in 1992. This was their only album which was released in 1996 and they split up in 1998 whilst working on their second album as they had no funds to continue. Later on Baz Warne from the band joined The Stranglers and a few years ago the band did reform for a few reunion dates.

Now musically it is a very classic rock sound, harmonies and a few classic styled solos. When this band came out just after grunge and during the Brit pop years they were sort of against the grain of most people's tastes. They were not trying to ride any popular wave, they were just trying to release good music. One of their songs "Moral Judgement" was given the Kerrang! single of the week when the magazine was not just Smash Hits for the dumbed down generation. I got to see these guys live in Newcastle and there were about 25 people there, in a really big venue and this was with lots of publicity. But they were different to what was going on, they were fantastic and if they had have been given a change (which they deserved more than The Sterophonics) they could have been more, but that is the what if game which is never really worth looking at. Musically they just wanted to rock you and swoon the heart. Big men with hearts of gold and an ability for song writing which I feel is sadly missing in some forms of music.

For the whole album I could list every song on it and confirm how much I love them all - but I would recommend the aforementioned "Moral Judgement", "Can't Stop Smiling" & "Spin". I have bought many copies of this album and loved each one which has either been given as presents or nicked by people - but it does mean I get to buy it again which sort of feel really good and I like the challenge of finding it. I have saved you the problem if you want to use the link below. Whilst not the most amazing album ever, it is a perfect piece of honest rock which does not try to be anything other than it is. So for the almost ran's, if your album is half as good as this, you will have a good starting place.
8 out of ten - Oh, now you have my attention and maybe my money, time and heart
You can purchase from here
You can listen (to most of it) on Spotify here